GET READY TO ENJOY A MEMORABLE CONCERT.
Great Musical Tribute to Chucho Avellanet.
THE APPLAUSE
A concert filled with emotions, stories, and musical notes that deliver to our hearts the vibrant Borinquen feeling and the grand applause of Puerto Rican musical legacy in the world. In this inaugural edition, San Sebastian El Aplauso pays a well-deserved tribute to our beloved Chucho Avellanet. An example of a noble, festive, and tenacious heart, proud of its roots and committed in an embrace that has united Puerto Rico with so many cultures.
SAN SEBASTIAN EL APLAUSO promises to be a memorable concert in every moment, where ovation will spark emotions as a celebration of the proud diaspora of our roots and the essence of our people, elevating the stories that music has allowed us to share and sing to the world.
CHUCHO AVELLANET
After five decades of intense work, Chucho Avellanet has a solid artistic career that keeps him as one of the most applauded voices in Puerto Rico.
An impeccable journey that takes us on a tour through the 1970s and 1980s, where titles like "Jamás te olvidaré," "Que mal amada estás," and "Hoy me recuerdas" were applauded.
His artistic career began in the 1960s, being part of the Canta la Juventud artist group, the singer from Mayagüez started to transcend internationally. He successfully performed in Peru, acted in Argentina, Guatemala, Mexico, and the Dominican Republic. He packed theaters in Hispanic communities in the United States, and in Venezuela, he became a true idol, topping the charts for 17 weeks with "Jamás te olvidaré."
Beyond his record releases and personal concerts, including the successful series of concerts with Gilberto Santa Rosa, Lissette, Nydia Caro, and Danny Rivera, Chucho has remained active on Puerto Rican television.
Amidst albums and successful concerts, Armando Hipólito Avellanet González, better known as "Chucho" Avellanet, is the Puerto Rican singer who has remained active on television for the longest time. A true legend who has deserved nominations such as the Latin Grammy, among other significant recognitions.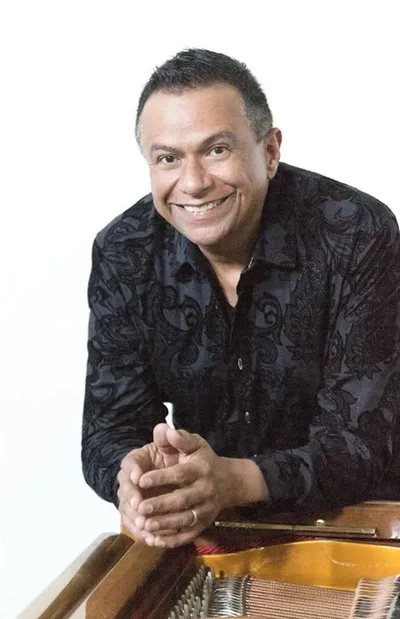 MILTON SESENTÓN
MUSICAL DIRECTION
Born in New York to Puerto Rican parents, Milton Sesentón began his first piano studies at the early age of eight years old.
Deepening his knowledge in the art, in 1981, Milton Sesentón entered the Conservatorio de Música de Puerto Rico, where he studied piano and composition.
With a genuine interest in jazz, he developed his skills on stage with important names such as the group Irakere, Spyro Gyra, Paquito D'Rivera, George Benson, Puerto Rican percussionist Giovanni Hidalgo, Justo Armario, and René Toledo. In 1996, he participated in the International Jazz Festival in Havana, Cuba, with Humberto Ramírez and his Jazz Project.
As an arranger, pianist, producer, and musical director of numerous musical and commercial projects, his extensive credits include excellent work done for figures such as Angela Carrasco, Lissette, Braulio, Mijares, Dyango, Raúl D'Blasio, Yolandita Monge, Lucecita Benítez, Ednita Nazario, Andrés Jiménez, Nydia Caro, Chucho Avellanet, Osvaldo Ríos, Danny Rivera, Lunna, Lourdes Robles, Federico Cordero, Eddie Santiago, Bobby Cruz, José Nogueras, Domingo Quiñones, and the ex-Menudo group.
Maestro Milton Sesentón boasts an extensive and illustrious musical career that includes nominations and Grammy awards (3). He was also one of the talents recruited by American producer Manny Fox to work on the musical "Murderous Instincts," among many of his countless accolades.
Accompanied by a Great Repertoire of Artists.
ALBERTO CARRIÓN
His music beginnings date back to the late 1960s. In the midst of the rock and roll revolution that swept the world, young Alberto Carrión made his entry into the music scene with the groups The Tom Cats and The Chessmen.
But his stroke of luck in Puerto Rico didn't come precisely within the rock movement, amid the recession that occurred in the 1970s.
Lucecita Benítez, then considered the most popular singer, sponsored him in his debut as a singer and presented him on her television show "El Show de las 12". Months later, the singer released his first two songs on a record recorded in Spain. The young singer-songwriter emerged onto the national stage, revealing an immeasurable potential.
A year later, Alberto burst onto the radio waves with the song "Amanecer borincano." In 1975, he released the first quadraphonic album produced by a local artist. "Isla de Lobos," an instrumental track from this recording, became one of the greatest hits of the production.
Entering the 1980s, Alberto Carrión went through a period of silence as an artist. Focused on his recording studio and creating commercial jingles, the singer-songwriter concentrated on his new role as a commercial producer. However, Alberto's silence didn't stop his musical production from being popularized by numerous artists such as Lucecita Benitez, Danny Rivera, Ednita Nazario, Edyie Gormé, Marco Antonio Muñiz, Glenn Monroig, Estela Rabal, Los Hispanos, Gilberto Santa Rosa, Carmita Jiménez, and Millie Corretjer, among others, who gave voice to his songs.
Honored by the Institute of Puerto Rican Culture, which dedicated the main activity of the Composer's Month to the singer-songwriter who has participated in numerous Banco Popular specials. He also ventured into the commercial field, managing the Mozart nightclub in the Guaynabo area. In the same place, he created a workshop for dozens of artists between 2008 and 2009.
ARLENE
When she started in the musical concept that would later become Anexo 3, singer Arlene González simply enjoyed her art, never thinking about establishing a professional career.
She met Lou Briel and Julio Ortiz while they were classmates at the Academy of the Sacred Heart in Santurce.
Arlene, born in Manhattan (New York) but raised in Puerto Rico, shared that it wasn't until she heard the song "Oh, cuánto te amo" on the radio stations that they were thrilled and realized what they had achieved. The song catapulted them to the top of the charts in September 1976.
Looking back on the resounding success of "Oh, cuánto te amo," Arlene understands that the overwhelming success of the song was due to its simplicity. From the early days in music, the role of each member of Anexo 3 on stage was well defined. At just 17/18 years old, their first performance was at Ocho Puertas in Old San Juan, and opportunities quickly followed with the support of personalities like Luis Vigoreaux, Myrta Silva, and Paquito Cordero, who marked their artistic career.
In 1992, she moved with her family to Ohio, where she lived for 17 years, completely distancing herself from secular music but continued singing in church. In 2006, she moved to Florida. Arlene described the reunion with Anexo 3's producer, José Antonio Mellado, in 2019 at the Centro de Bellas Artes de Santurce as a "blessing." Without a doubt, she is a worthy representative of Puerto Rico's musical trajectory, and together with Anexo 3, they are part of the musical legacy of the Island.
JOSÉ NOGUERAS
She was born in the city of Mayagüez on June 18, 1951. From a young age, she felt a strong passion for music, which was channeled through the instrument she enjoyed the most, the guitar.
Her father, a simple and humble human being, possessed an extraordinary talent for poetry, and perhaps "that vein" has allowed José Nogueras to develop as an author. He began his professional foray into music at the age of 17.
José Nogueras has been one of the most versatile composers and singers in Puerto Rico. He has achieved top popularity in genres such as rock, ballads, Christmas music, and salsa has been no exception.
Cheo Feliciano, Rubén Blades, Héctor Lavoe, Ismael Miranda, Willie Colón, Gilberto Santa Rosa, and Tony Vega are some of the singers who have interpreted his compositions.
Throughout the years, Nogueras has been awarded significant prizes such as "Composer of the Year" (Billboard Magazine), "Singer of the Year" (Agüeybaná and Cemí Awards), "Christmas Production of the Year," and his compositions have always stood out for their simplicity, depth, and universal feeling.
Nogueras' music not only captivates the Puerto Rican audience with its infectious rhythm and flavor but has also been recognized in other Latin American countries and the Hispanic sector of the United States.
The quality of his compositions and the emotion in his performances, along with the recognition he has received from his fans both locally and internationally, qualify him for success in those places where Caribbean music has broken all cultural barriers.
Some of José Nogueras' songs include "Amada mía," "Aquél bolero de ayer," "Esta canción," "Navidad es amor," "No me digan que es muy tarde ya," "Casa pobre, casa grande."
LOURDES ROBLES
A recognized singer, songwriter, and actress. This versatile artist has excelled in various fields such as theater and television. Possessing a melodic voice and impeccable interpretative range, she is one of the most influential figures in contemporary music.
Lourdes' career began in the early 1980s as part of the duo Lourdes y Carlos. With two productions to their credit, the duo eventually separated, marking an important stage in her musical life. Initially, she gained notoriety in the artistic world as an actress, participating in television on the program Barrio Cuatro Calles.
Later, she shared the screen with international star Chayanne in the series Generaciones, while also venturing into theater productions like La Ciudad Fantástica, La Brujita sin Escoba, La Mariposa Perdida, and Aladino y su Lámpara Maravillosa. Not to mention her participation in musicals like Hello Dolly and The Fantasticks, showcasing her perfect command of the English language.
Sponsored by Puerto Rican singer Danny Rivera, Lourdes caught the attention of the specialized press with the release of her first music production, featuring standout songs like "Tu Llegaste" and "Hasta Ahora," which garnered the attention of the multinational Sony Discos.
Her definitive breakthrough came with the album "Imágenes," which earned her a Gold Record and topped the charts in Billboard magazine in 1990, as well as the Ampex Golden Real award.
After a period of musical silence, in August 2000, the artist once again burst onto the radio waves with her ballad "Lo Odio" and returned to musical theater, starring in the role of Dorothy in the play El Mago de Oz. In 2004, Panama recognized her work by honoring her with a star on the Panamanian Walk of Fame, an award she received from the First Lady of the country alongside artists Milly Quesada and Luis Enrique.
In 2006, Lourdes surprised us again, making her debut as a dramatic actress when producer and director Vicente Castro offered her the lead role in her first television film "La Carretera," alongside international actor Osvaldo Ríos, with whom she also performed the theme song.
In the second half of 2014, Lourdes portrayed one of the most enriching characters of her theatrical career, sharing the stage with Braulio Castillo Jr. and Dagmar Rivera in the musical "The Sound Of Music."
Lourdes' success knows no bounds, which is why she remains "LA MÁS QUERIDA" (The Most Beloved) by the public.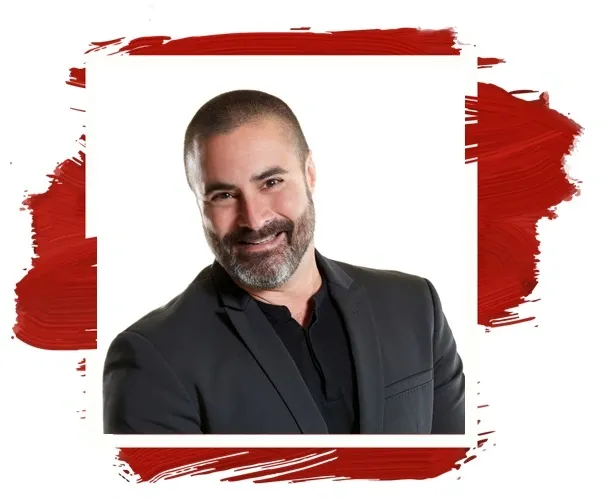 MANUEL COLÓN
Born in Ponce, Puerto Rico on November 16, 1965, this individual has dedicated their life to the arts in various fields, including music, sculptural art, and the creation, direction, and staging of cultural and advertising events and projects in Puerto Rico, Miami, Mexico, and Brazil.
In the music genre, this individual began their career as a singer under the vocal direction of singing teacher Rina de Toledo and the mentorship of the "Dama de la Canción," Carmita Jimenez. Their concert productions started at the Sylvia Rexach Hall in the Centro de Bellas Artes de Puerto Rico, under the musical direction of renowned Puerto Rican composer and maestro Raymond Torres-Santos. In 2002, they established themselves in the city of Weston, Florida, and began performing private and public concerts in various theaters in Miami under the direction of the award-winning Latin Grammy Award-winning maestro, Milton Sesentón, who has been their musical director for 20 years. Together with Maestro Sesentón, they established the "Noches de Big Band" in their concert productions, paying tribute to Hispanic music. Inspired by the great legacy of Puerto Rican composers and artists, they created "SAN SEBASTIAN EL APLAUSO," a project that unites with Maestro Milton Sesentón to pay homage to Puerto Rican music and express gratitude for the applause that many countries and sister nations have given to Puerto Rican artists.
Moreover, they have dedicated more than thirty years of their life to the study and development of sculptural art, combining various media such as ceramics, concrete, stainless steel, and others. Their work integrates and recreates combinations of materials, merging textures, movements, and volumes while maintaining absolute respect for the essence and nature of each individual medium.
This journey has given them the pleasure of being part of over twenty art collective exhibitions and solo shows, and the honor of receiving private and public commissions, including their large-scale work in the Central Park of San Juan, Puerto Rico, titled "Mujer a todo corazón" (Woman with All Her Heart).
For them, art is an expression of continuous thought and the intrinsic search for our human nature. It is the proximity to the creative essence that links us as a universe. It is the door and window that affirms levels of existence that can truly endure over time.
MELINA LEÓN
One of the most important voices in the tropical music scene over the last two decades. Celebrating 25 years of a successful career in 2023, Melina is preparing a unique concert to share with her Puerto Rican audience and take them on a journey through her greatest hits.
Melina started her solo career with her successful debut album "Mujeres Liberadas," with many of its tracks reaching top positions on the radio in Puerto Rico. In 1998, she released her second album, "Con los pies sobre la tierra." The lead single, 'Quiero Ser Tuya,' achieved significant success on radio stations in Puerto Rico and the United States, earning her a nomination for "Artist of the Year – Tropical" at the 2005 "Premio Lo Nuestro" awards. Later, in 2010, she recorded her album titled "No Seas Cobarde," which earned her the "Premio Lo Nuestro" award for "Best Tropical Female Artist" and nominations for various prestigious awards, including Latin Grammy and Billboard awards.
With her successful albums, including "Mujeres liberadas," "Con los pies sobre la tierra," and "Baño de Luna," she has achieved several chart-topping singles on Billboard. Among them, "Cuando una mujer" stands out as one of the highlights of Melina León's career. This song has been considered an anthem for women, celebrating their independence, strength, and determination to overcome obstacles and achieve their goals. It has become very popular among her female audience and has become a symbol of female empowerment.
Recently, she released one of her hits, "Mujeres Liberada Reloaded," as part of her 25-year musical journey, and in 2023, she is preparing a unique and special show to celebrate all these great successes with her Puerto Rican audience.
In addition to her music career, Melina León is also an advocate for mothers and children and has been involved in various campaigns to support these causes.
NYDIA CARO
Nydia Caro is one of the most internationally recognized artists in the artistic landscape of Puerto Rico. She has successfully ventured into singing and acting, in addition to being a successful entrepreneur.
Nydia Caro has also been listed among the most elegant women in Puerto Rico. She has been the main figure in various advertising campaigns and has served as a spokesperson for the children's home "Posada de Amor" and other organizations over the years.
Born in New York to Puerto Rican parents, Nydia studied at the New York School of Performing Arts. Upon arriving in Puerto Rico, she became part of the Telemundo family for over 20 years.
Nydia won first place at the Bogota Song Festival with the song "Hermano tengo frío" by composer Karmen Mercado. Three years later, she achieved third place and best performer at the Benidorm Festival with the song "Vete ya" by Julio Iglesias. She was later invited as a guest at the Viña del Mar Festival in Chile. In October 1974, she became the first Puerto Rican to win the OTI Festival in Mexico, performing the song "Hoy canto por cantar," which transcended international charts while solidifying her presence in the popular music scene of Puerto Rico.
With over 27 record productions, the singer-songwriter has presented her show on local and international stages, including Carnegie Hall, Hostos College, Lincoln Center, and Town Hall, all in New York City. Her music has reached audiences across South America, Spain, Australia, and Japan.
For Nydia Caro, her people have always been at the forefront of her mind. She recently served as the master of ceremonies both in and outside of Puerto Rico to support hurricane relief efforts for the victims of hurricanes Irma and Maria.
SHARLEEN SANTOS
Sharleen Santos is a Puerto Rican singer-songwriter and performer. She made her debut in 2019 with the single "Como le Hacemos," in collaboration with independent artist Lizbeth Román. In 2021, she released her first EP titled "Todo Pasa," which combines elements and sonic qualities of 90s ballads with a modern twist.
For Sharleen Santos, the value of performance is paramount, and she uses this skill to capture the attention and affection of her audience, who support and follow her wherever she performs.
Sharleen has recently released her latest single "Colgada en tu Mirada," featuring the collaboration of artist Mónika Nieves, where she showcases her love for bolero and Caribbean tropical music.
You can follow her on Instagram as @sharleensantos and @ssantosoficial on Facebook.
You can find her music on all digital platforms.
DR. PHILLIPS CENTER FOR THE PERFORMING ARTS
Sunday, September 10, 2023
A night where magnificent artists and musicians come together in one of the acoustically most perfect spaces in the world, the magnificent stage of the Steinmetz Hall at the Dr. Phillips Center for the Performing Arts in Orlando, Florida. The Steinmetz Hall allows guests to enjoy a variety of performances, with or without amplification, from local, national, and international artists. The unique and versatile theater transforms in form, seating, and sound to accommodate a variety of art forms and events, making it the chosen destination for the world's most revered and relevant artists.
#ConcertNight
#MemorableConcert
#MusicTribute
#ChuchoAvellanet
#MusicLegacy
#SanSebastianElAplauso
#MusicFestival
#MusicConcert
#LiveMusicEvent
#MelinaLeon25Years
#NocheDeConcierto
#ConciertoMemorable
#HomenajeMusical
#ChuchoAvellanet
#LegadoMusical
#SanSebastianElAplauso
#FestivalDeMusica
#ConciertoMusical
#EventoMusicalEnVivo
#MelinaLeon25Años
Concert
Memorable
Music
Tribute
Legacy
Festival
Live
Event
Artist
Performance
Concierto
Memorable
Música
Homenaje
Legado
Festival
En Vivo
Evento
Artista
Actuación
"Enjoy a memorable concert."
"Tribute to Chucho Avellanet."
"Join us for a night of live music."
"Experience the music legacy of Puerto Rico."
"Celebrate with San Sebastian El Aplauso."
"A festival of diverse musical talents."
"Be captivated by the artists' performances."
"An unforgettable musical event."
"Honoring 25 years of Melina Leon's career."
"Experience the perfect acoustics at Steinmetz Hall."
"Disfruta de un concierto memorable."
"Homenaje a Chucho Avellanet."
"Únete a nosotros para una noche de música en vivo."
"Vive el legado musical de Puerto Rico."
"Celebra con San Sebastián El Aplauso."
"Un festival de diversos talentos musicales."
"Déjate cautivar por las actuaciones de los artistas."
"Un evento musical inolvidable."
"Homenajeando 25 años de la carrera de Melina León."
"Experimenta la acústica perfecta en Steinmetz Hall."